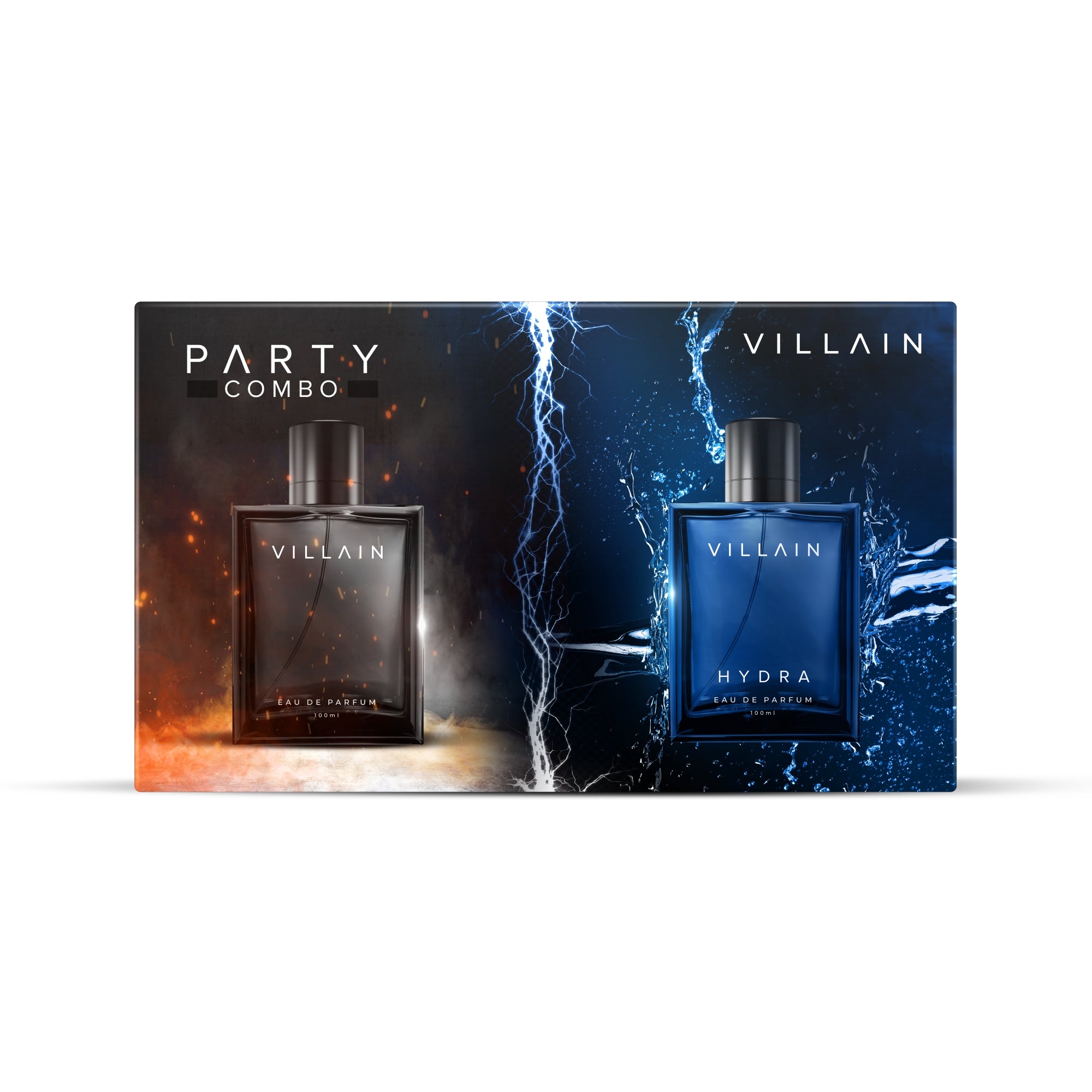 VILLAIN PARTY COMBO - CLASSIC 100ML & HYDRA 100ML
M.R.P
Sale price

₹ 1,598

.00

₹ 999

.00

Regular price
Product Description
WALK INTO THE FESTIVE SEASON WITH THE WICKED VIBE OF VILLAIN PARTY COMBO.
CONSISTS OF A VILLAIN CLASSIC & VILLAIN HYDRA TO KEEP YOU ADVENTUROUS IN THE DAY AND SEXY AT NIGHT
THE PERFECT GIFT TO SEND YOUR LOVED ONES FOR THEM TO GET THEIR FESTIVE-FACE ON.
LONG LASTING AND MASCULINE FRAGRANCE.
ALL VILLAIN PERFUMES ABIDE BY THE NECESSARY QUALITY AND SAFETY GUIDELINES.

GET YOUR VILLAIN VIBE ON WITH THE VILLAIN CLASSIC AND VILLAIN HYDRA'S PERFECT PARTY COMBO TO KEEP YOU SMELLING SEXY, THROUGH DAY AND NIGHT. VILLAIN PERFUMES ARE MADE FOR THE MEN WHO KNOW HOW TO GET THEIR MACHO ON, WHILE WEARING THAT WICKED SMILE. WEAR YOUR FAVOURITE VILLAIN PERFUME EVERY TIME YOU STEP OUT, TO NAIL THAT PERFECT FESTIVE LOOK. USE DIRECTLY ON THE BODY OR ON CLOTHES.