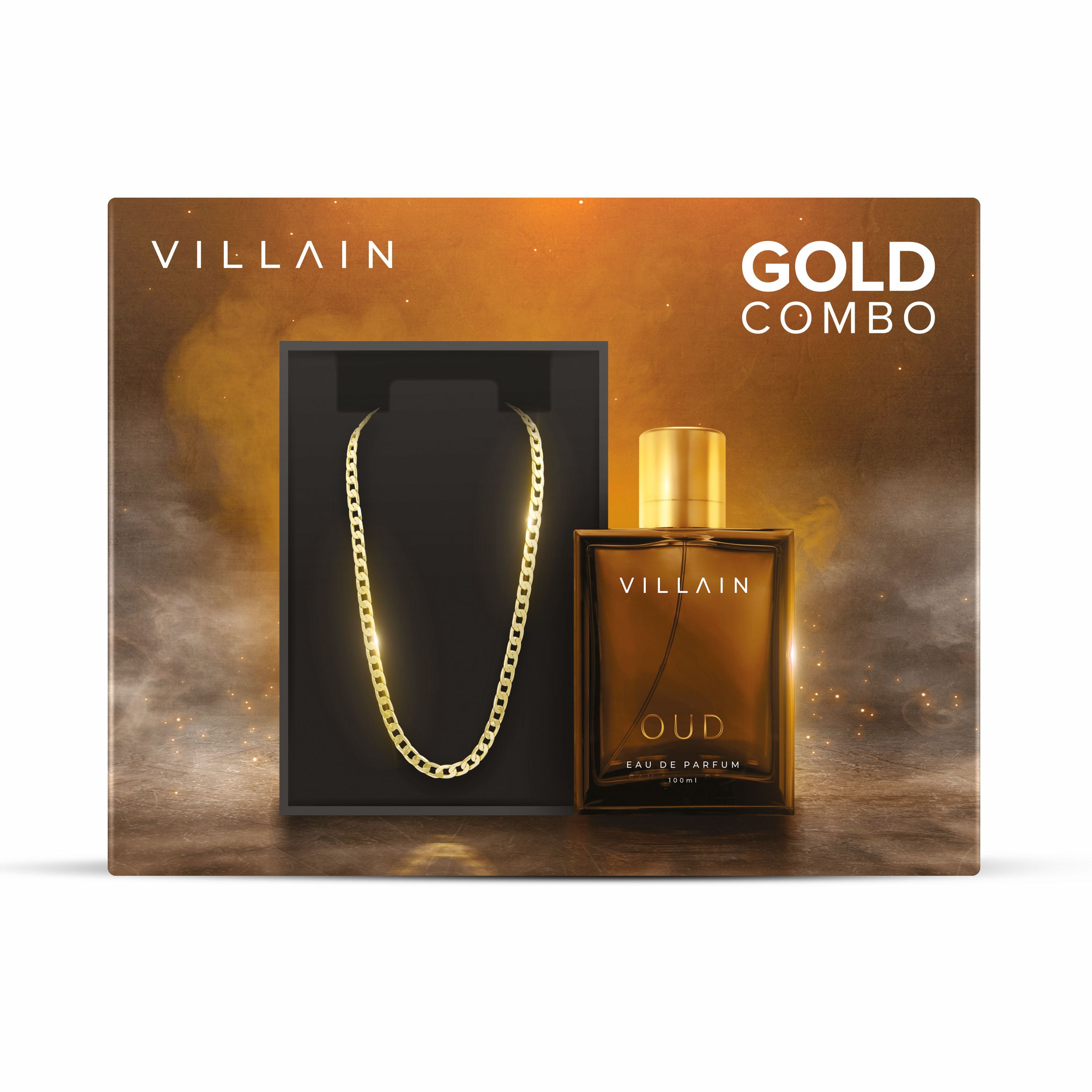 VILLAIN GOLD COMBO - OUD 100ML & 18K GOLD PLATED CHAIN
(4)
Regular price

₹ 1,099

.00

Sale price

₹ 1,099

.00

Regular price

M.R.P

₹ 1,749

.00
Product Description
- SET OF VILLAIN'S 18K MICRO-GOLD PLATED CHAIN AND VILLAIN OUD EAU DE PARFUM FOR THE GOLD WAY TO SHINE
- VILLAIN OUD HAS A WARM, MASCULINE AROMA MIXED WITH SPICY, MUSKY AND SMOKY NOTES
- LONG-LASTING AND UNIQUE FORMULATION
- VILLAIN 18K GOLD CHAIN IS A ROPE CHAIN WITH A SOLID FINISH & CLASSY LOOK
- VERSATILE PRODUCTS TO MAKE YOU LOOK SEXY, FROM DAY TO NIGHT
- LENGTH= 24 INCHES| THICKNESS= 7MM| MAKE= BRASS WITH 18 CARAT MICRO-GOLD PLATING
VILLAIN OUD EAU DE PARFUM FOR MEN, 100ML

FRAGRANCE OF AUTHENTICITY AND DOMINANCE IS THE SCENT OF ALL-NEW VILLAIN OUD PERFUME FOR MEN. TAKING OUD, A CROWD FAVOURITE FROM CENTURIES, THIS LATEST EAU DE PARFUM HAS BEEN PACKAGED WITH STRONG NOTES OF AGARWOOD, BALSAMIC BENZOIN, SPICES AND SAFFRON.
VILLAIN 18K MICRO GOLD PLATED CHAIN
ELEVATE YOUR STYLE AND BRING IN THE SEXY WITH VILLAIN GOLD CHAIN. THIS BRASS CHAIN COMES WITH 18 CARAT MICRO-GOLD PLATING, AND IS MINIMALISTIC, CLASSY, AND COMFORTABLE TO MAKE YOU STAND OUT FROM THE CROWD. IRRITANT-FREE, RUST-FREE, AND FUSS-FREE, CARRY THIS COMFORTABLE AND EVERYDAY WEAR CHAIN TO BRING OUT YOUR VILLAINOUS VIBE.

Your item was added to cart